"MOBILE COMMUNICATIONS" MAGAZINE ORGANISES THE PREMIUM ANNIVERSARY EVENT CELEBRATING 20 YEARS OF BUSINESS TELECOM MEDIA & 15 YEARS OF GALA AWARDS IN ROMANIA.
INDUSTRY DEBATE - ROMANIAN TELECOM REPORT 2018
The industry debate covered the latest concepts and trends of national and global ICT industries with elite speakers, business people, influential thinkers, decision makers and executives of ICT industry from Romania and our region.
VIP GALA AWARDS - CEREMONY & ARTISTIC SHOW
"Mobile Communications Gala Awards" for 2018 activities on the Romanian market, accompanied by an exclusivist artistical Show and Dinner Party - a great opportunity to network with the most important IT&C leaders and executives
DRAFT AGENDA
5 December, Radisson Blu Hotel, Atlas Hall
Welcome Coffee & Registration
Plenary Session
Public & Private Ecosystems in Connectivity Era
How ICT vertical becomes a horizontal platform for cross 4.0 Industries on the road to Digital Transformation
Şef Departament Strategie şi Date Statistice, ANCOM
General Director, ICI BUCUREŞTI
Public Affairs & Wholesale Director, ORANGE
IoT Country Sales Manager, VODAFONE
Director ICT & Key Accounts Telekom Romania
Chief Commercial Officer, PRYSMIAN
Business Development Strategist - ENERGOBIT
Marketing Director, IMPACT DEVELOPER
New Challenges for the Next Digital Economy
Mădălina Otilia TEODORESCU
Vice President, FIRST BANK
General Director, BCU "CAROL I"
Founding Partner, GAPMINDER VEN
Moderator - President | ICT CONSULTATIVE COUNCIL
GALA AWARDS CEREMONY
TOP RECOGNITION FOR DIGITAL ECONOMY
Welcome drink & Registration
GALA DINNER & VIP NETWORKING
GALA AWARDS CEREMONY & ARTISTIC SHOW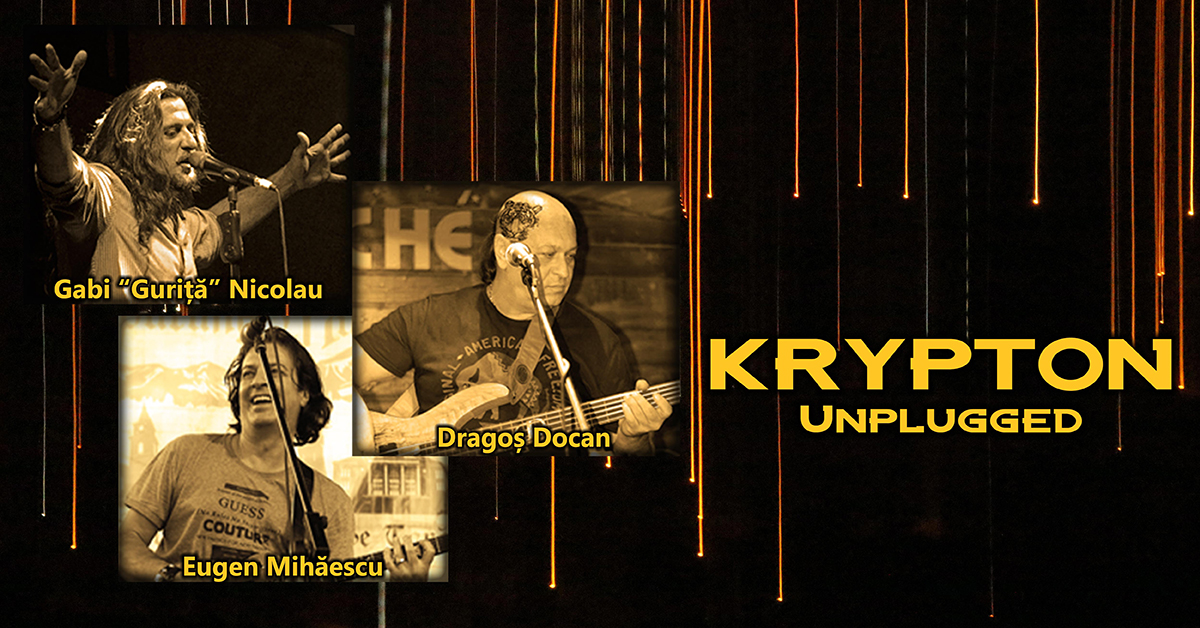 Am creat acest proiect într-o formulă restrânsă cu gândul că o chitară, o voce şi un bas pot transmite o vibraţie, un mesaj unui public ce a crescut cu muzica noastră.
Departe de "armata" decibelilor şi a sonorităţilor electrice, de data aceasta redefinind un spaţiu acustic, cald, ne apropiem de vechii noştri fani, dar şi de generaţia nouă, cu piese scrise acum două decenii, dar şi cu noutăţi interpretate acustic, într-un spectacol intitulat în continuare: "O parte din noi". O parte dintre noi KRYPTON-ii, aducem acolo unde timpul şi spaţiul nu ar permite altfel, un spectacol intitulat: "O parte din noi". O parte din noi, din voi, din sufletul vostru, din amintirile şi trăirile voastre, trăite de toţi, povestite de noi.
Eugen Mihăescu - chitară, voce
Gabi "Guriţă" Nicolau - voce
Dragoş Docan - fretless bass, voce